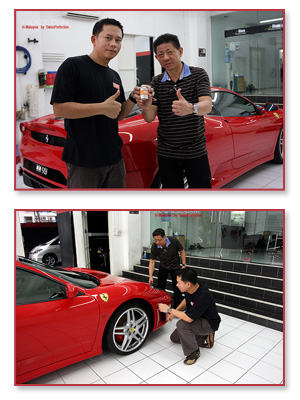 Automobile being a passion and an interest for 30 years, got Vincent Liew chasing the ultimate appearance of a car. A car was not a mere vehicle but the exitence of a soul in every one of them.
"A Car can be a transport, can be a tool, can be a personal achievement, can be pride, can be anything you want it to be, even some say they are men's second wife. Every car should deserves the best, deserves the respect! " spoken by Vincent Liew
Some 6 years ago, Vincent had come across a revolutionary glass coating technology from Japan. The application was the next generation in car detailing.
Thus he set out about transfering this technology to Malaysia. The endeavour was no easy task. It required training, dedication to perfection, re-investment and perserverance. Thus, a company was established, called "Swiss Perfection" and soon with much perspiration, research and commitment had qualified as the sole Distributor for J-Glaze Product in Malaysia.
Now, after several years, Swiss Perfection has chartered significant growth and has positioned oneself as a leader in the industry.
"Although there are a number of companies with similar products, we pride in our excellent application process itself, as it sets us apart from the rest. Moreover, our Passion is the most important thing that make us standing absolutely diverse in the industry."
Jglaze The Glass coating at Kuala Lumpur, Malaysia
Cotact : Vincent Liew 019-225-4464
Henry 016-319-0619